Professional Wedding DJ Services and DJService
Are you dreaming of the perfect soundtrack for your special day? Look no further because crafting the perfect wedding playlist is our specialty. Look no further than our professional wedding DJ services. The Music Caterer understands the how significant music is in creating memorable moments, setting the vibe of your event, and ensuring your wedding day is nothing short of magical.
Setting the Mood with Wedding DJ Services and DJService
Our experienced DJs are more than just music enthusiasts – they are artists who know how to create the perfect ambiance for every moment of your wedding. From romantic first dances, amazing entrances, moving moments during your ceremony, or keeping the dance floor full with beats that will have everyone going all night long, we've got you covered. This night to remember will be tailored to your style.
As a member of the American Disc Jockey Association, we are fully insured and carry a $2 million liability policy. We are one of only a few DJ services in Northeastern Wisconsin who are members of this prestigious association. Through the ADJA, we are able to offer backup equipment and other professional services to our clients.
Customization
Your wedding is a reflection of your unique love story, and your playlist should be no different. The Music Caterer will work closely with you to carft a playlist that represents who you are as a couple, your journey, and your style. Whether you prefer timeless classics, contemporary hits, or a mix of genres, our wedding DJ services and DJService will ensure your playlist is a true representation of your life together.
A Seamless Experience
With our professional wedding DJ services, you can relax and enjoy your day without worrying about the music. We take care of every detail, seamlessly transitioning from one moment to the next. From the heartfelt exchange of vows to the exhilarating dance party, our DJservice will ensure a flawless experience.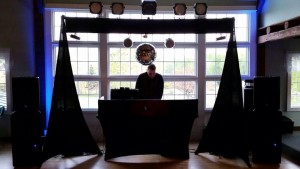 The Soundtrack to Your Love Story
Your wedding is a unique chapter in your love story, and your soundtrack should be no different. Our professional wedding DJ service is dedicated to creating memorable moments through music. The tears of joy during the ceremony, the laughter during speeches, and the memory of dancing the night away – it's all part of an amazing beginning to your life together, and our DJs will make sure the music complements every moment.
We will be the maestros of your day. Contact The Music Caterer today to discover how our experienced DJservice can craft your event into a unforgettable night that you, your family and friends will never forget. Contact Us Today!